The news that Gary Neville has retired won't come as a shock to many Reds. The last few years have been an injury-ridden nightmare for Neville, taking away from him the ever-present status in the first team he had enjoyed since the late 90s.
Neville has been the United player other fans loves to hate, and I completely understand why. Put him in any other team, and United fans would have hated him too. He is true to his cause, and has never had a bad word to say about the club. Even when the likes of Gabriel Heinze, Carlos Tevez and even Roy Keane pointed the finger at Sir Alex, Neville remained a loyal servant. In fact, in the case of Tevez, Neville pointed a finger back…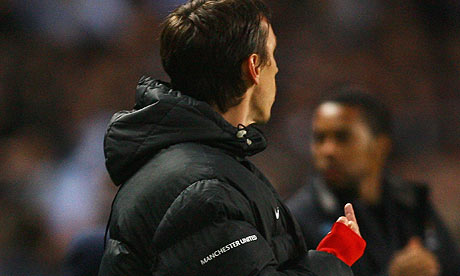 Neville's last performance came over Christmas against West Brom and, hand on heart, he was lucky to have remained on the field for as long as he did. It seems that the press and the fans weren't the only people who noticed that Neville was not the same defender he once was, and he made up his mind to quit.
Full-backs age quicker than most players. Their game dealing with nippy wingers relies on pace and fitness. As Neville himself has said, he wasn't the most flashy or technically-sound player, but fitness he had in droves. Time, of course, takes such attributes away.
Neville's commitment to United will always remain, and it's not difficult to see him as a part of the Old Trafford set-up in one way or another for the rest of his life. Perhaps his absence won't make the headlines the eventual retirements of Ryan Giggs and Paul Scholes will, but football is a less-interesting place without Gary Neville at right-back.